20W solar street light all in one type
Features:
•Fully automatic in operation: ON at dark and OFF at dawn, battery recharges in the daytime in the sun. It can last up to 5-6 nights on a full charge.
•intelligent remote control: It has 4 working modes that can be chosen from, realizing remote control, (working modes can be customized according to the customers' request.)
•Per light can be equipped with a hand-hold remote, which is used for switching modes from 4 working modes, more easy, more convenient for resell.

Parameters: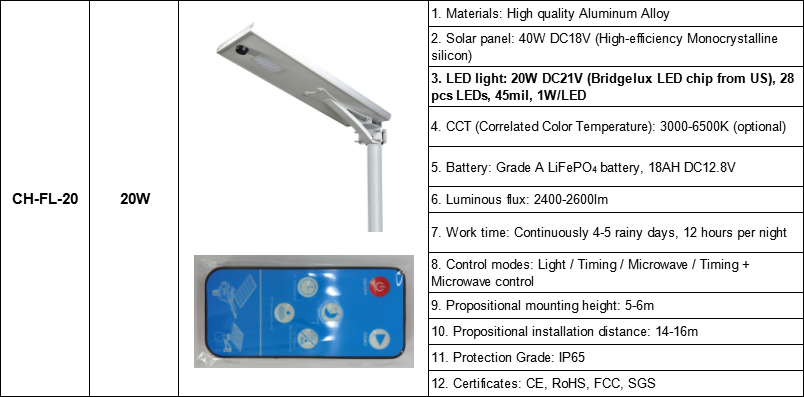 Mounting:
Easy to installation in 5 minutes. No wiring, no digging, no embed pipeline, do not need to hire an electrician, just need some screws and bolts which are equipped from the factory, it is totally different from the traditional seperated solar street light before, and sawing 50% trarsport fee and 90% labor cost.
Application:
Very applicable to some places such as residential area, road, courtyard, busy street and other outdoor lighting places need.
We also manufacture other design of 20W solar street light, please check here http://www.cnlisten.com/en/product/solar-street-light-2.html for more detail, please contact whatsapp:+8615820650365, or send us inquiry by email to julie@cnlisten.com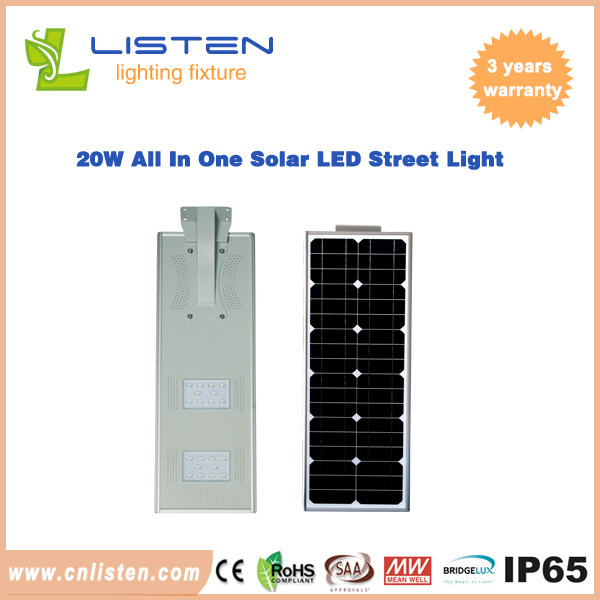 About Listen lighting, China,
Listen Technology Co., Ltd. is one of professional manufacturers in the field of led lighting, producing LED lighting products such as solar street light, led street light, led flood light, led high bay light, led underwater light etc.
We only supply you high quality and competitive price. OEM/ODM service is available and we dedicate to providing best lighting solutions for your project. Any question or inquiry, kindly send us an inquiry or e-mail us:
---------------------------------------------------------------------
TKS. & B. RGDS,

Julie

LISTEN TECHNOLOGY CO., LTD.
Email: ledlighting.julie@gmail.com/julie@cnlisten.com
Mob/Whatsapp: +8615820650365
Skype: julie.china01
Fax: 86-757-82710602
Website: www.cnlisten.com
Add: Qingke Industrial Area, Chancheng, Foshan, Guangdong, China

LED lighting | Chinese LED lighting | Chinese LED lighting supplier